HUSD CTE is excited to present the following opportunities for cosmetology and dental assistant.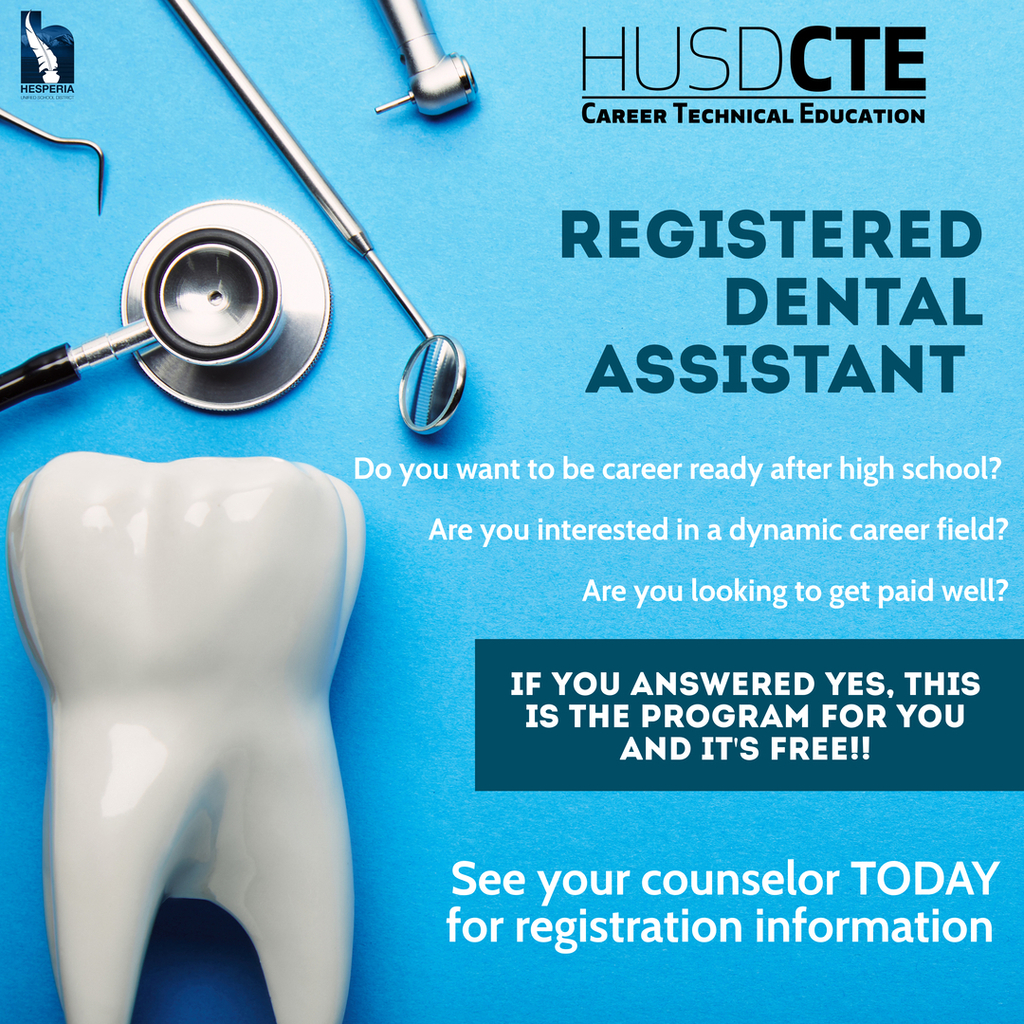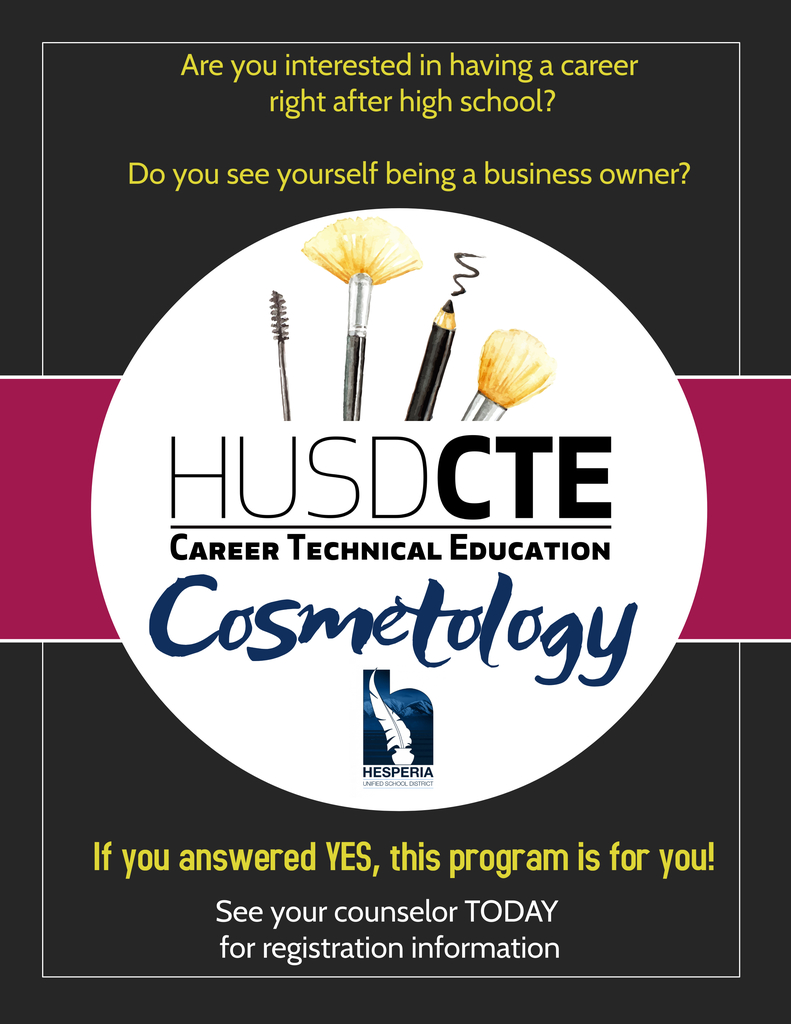 Hello Scorpion Families! Hesperia High School counseling department and college and career resource center will be offering a senior preview night for the Class of 2022. We invite you to join us on April 21st at 5pm on Zoom to learn more about what to expect for your student during their upcoming senior year as it pertains to college applications, financial aid, senior year deadlines, and much more. The link for zoom will be emailed to your student and posted online at scorpioncountry.com. We hope to see you there! ¡Hola familias Scorpion! El departamento de consejería de Hesperia High School y el centro de recursos universitarios y profesionales ofrecerán un avance de lo que será el último año para la Clase de 2022. Lo invitamos a unirse a nosotros el 21 de Abril a las 5pm en Zoom para obtener más información sobre qué esperar de su estudiante durante su próximo último año en lo que respecta a solicitudes universitarias, ayuda financiera, fechas importantes para el último año y mucho más. El enlace de zoom se enviará por correo electrónico a su estudiante y se publicará en línea en scorpioncountry.com. ¡Esperamos verte ahí!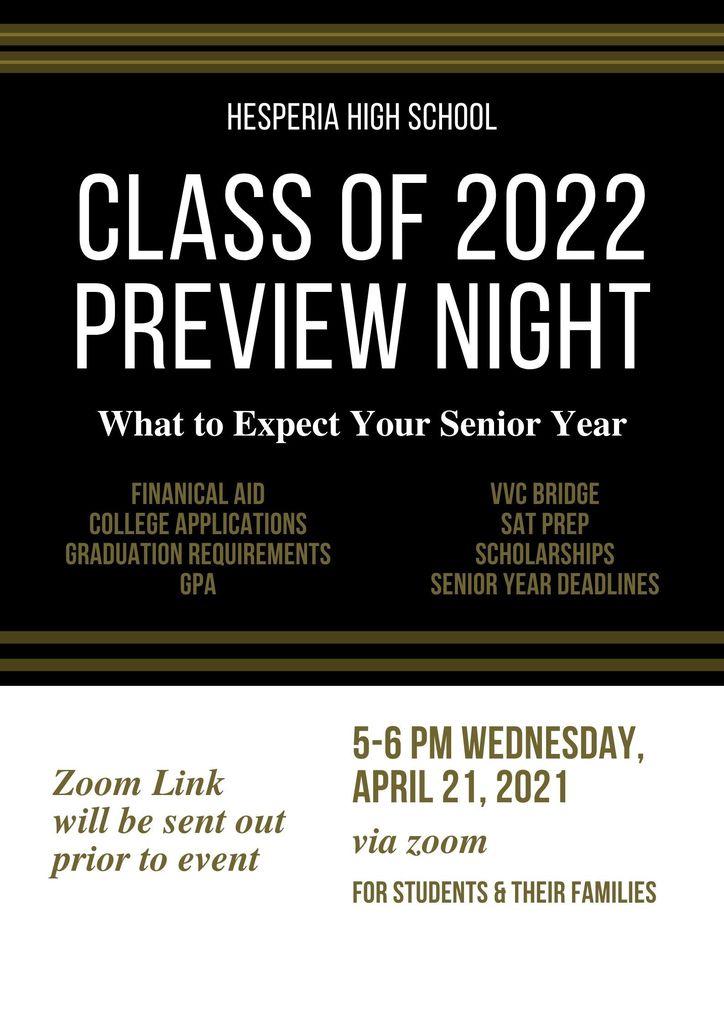 Class of 2021! Do you want to go to college for free? VVC is announcing a major initiative to help the Class of 2021. The college has set aside enough funds to make sure that every senior that wants to go to VVC starting next fall will not have to pay a dime. Students will be required to complete the VVC Bridge Steps that were shared to your student email. In return, every Bridge senior will receive: $1,000 in vouchers at the Rams Bookstore ($500 for fall and $500 for spring of next year) Have ALL their fees, including a parking pass and bus pass paid for Most of the students will qualify for free tuition under the California Promise but if they complete the FAFSA and do not qualify the college will cover their tuition. Every senior who completed their FAFSA or CA Dream Act will have FREE Tuition! PRIORITY REGISTRATION IS MAY 12TH. In order to qualify for priority registration you must have all of your bridge steps completed. In an effort to try to support all of you in being able to take advantage of this opportunity we will be emailing you reminders if we notice your bridge steps are not complete. Don't delay! If you have not yet applied to VVC check your student email for tutorials and assistance!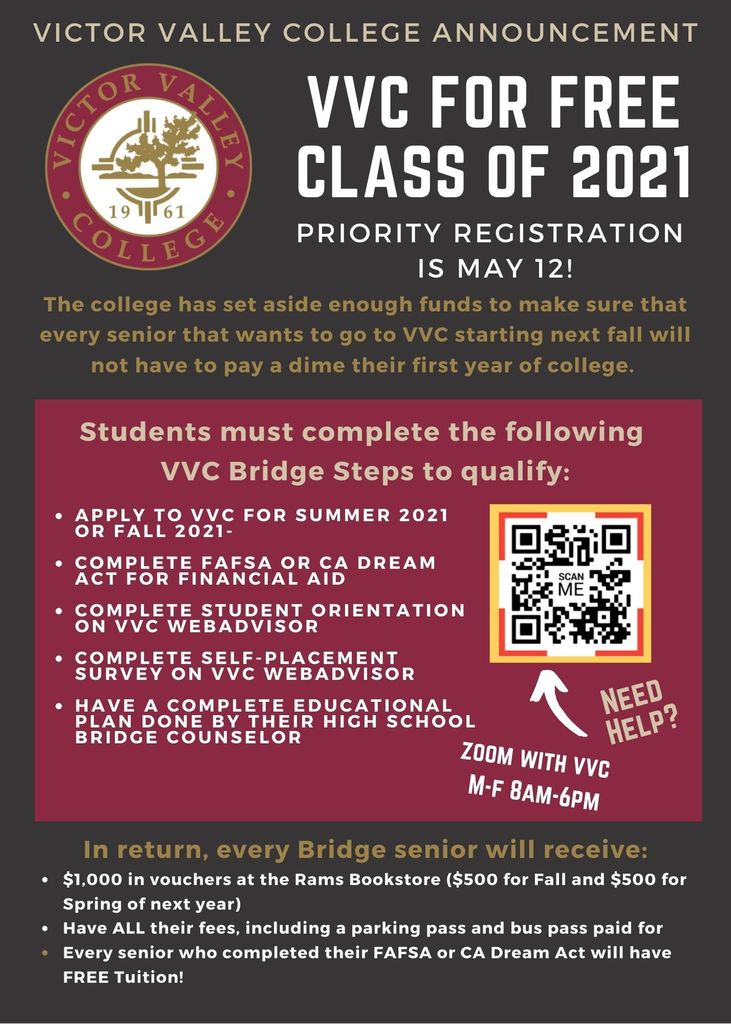 Class of 2021! Do you want to go to college for free? Well Victor Valley College is offering you that opportunity. All you have to do to get started is go apply to VVC and fill out your FASFA. Go register today!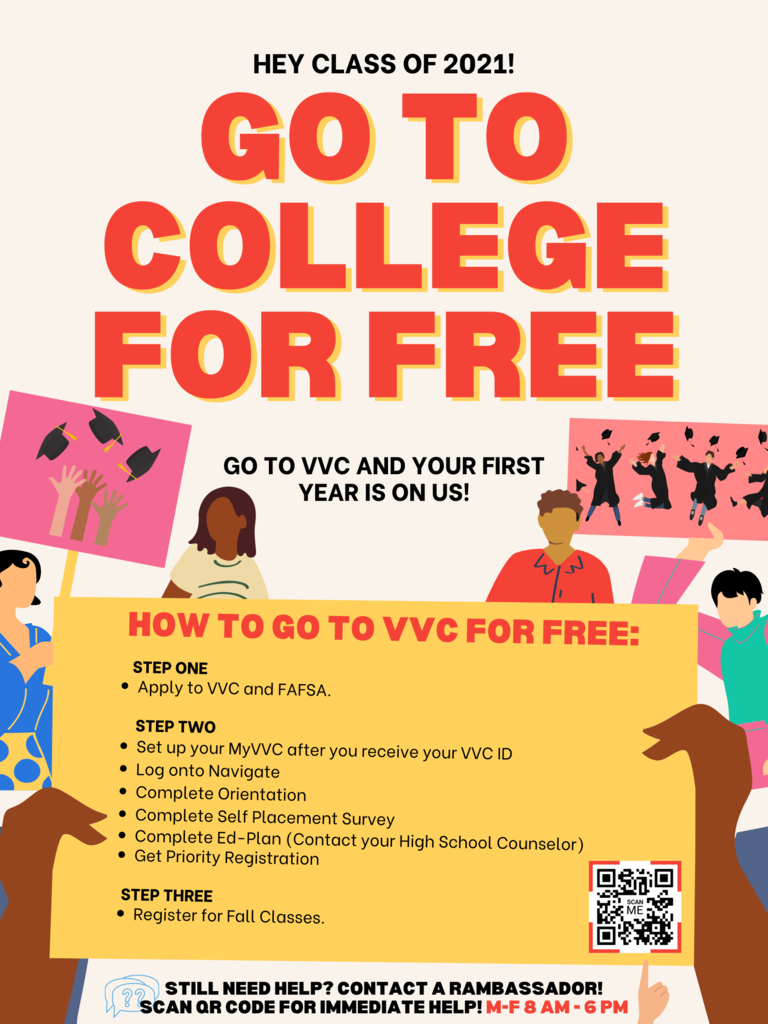 Scorpion Family, Just a reminder that tomorrow, Thursday, we will be having periods 2, 4 and 6. Periods 1, 3 and 5 will be on Friday. This Thursday/Friday schedule will continue for all students going forward. Have a great evening!


Good News! We will be able to have our graduation ceremony down at the Glen Helen Amphitheater on May 25th for our graduating seniors. There are still more details that need to be worked out so stay tuned for info on tickets, seating, and parking. If you have not ordered your cap and gowns please go to
www.jostens.com
and order yours today! If you have ordered those items they will be distributed on May 6th.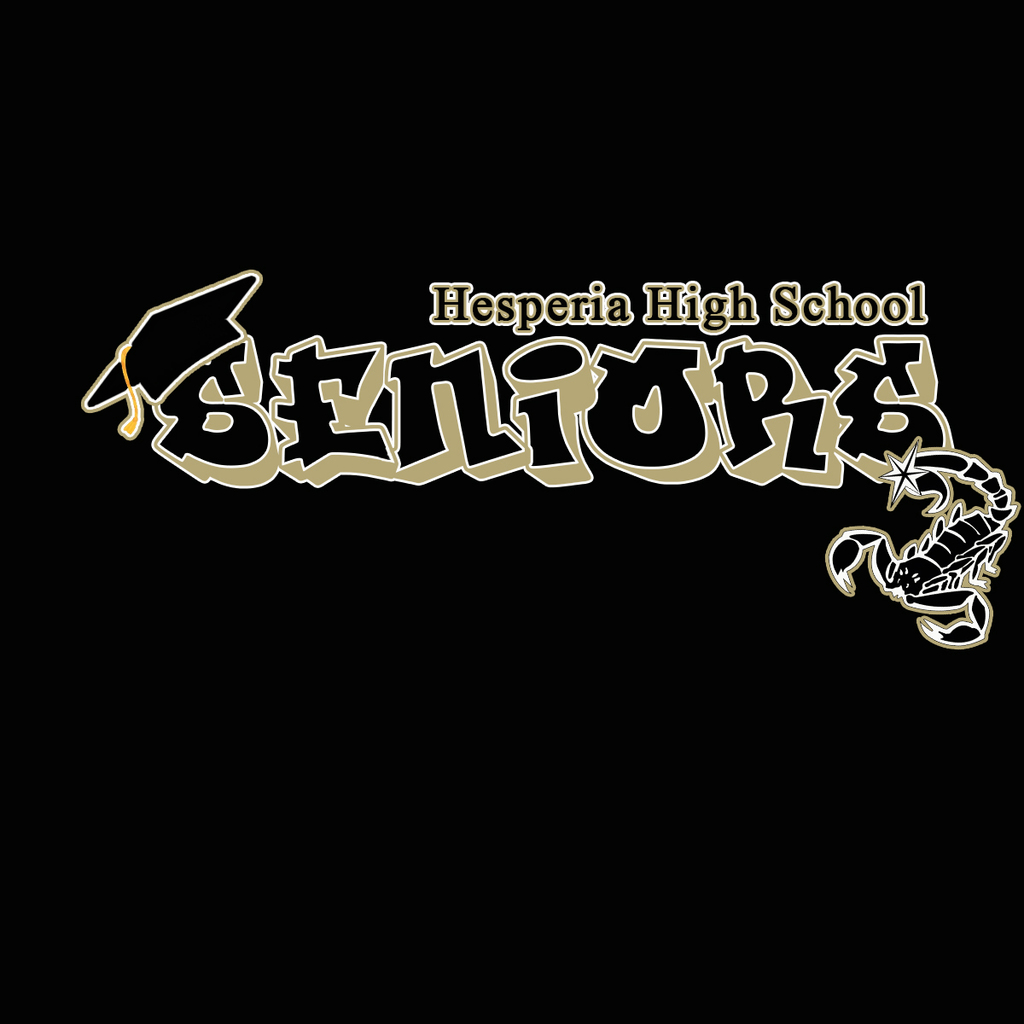 More information for our Hybrid opening. We are so excited to see you Scorpions!!!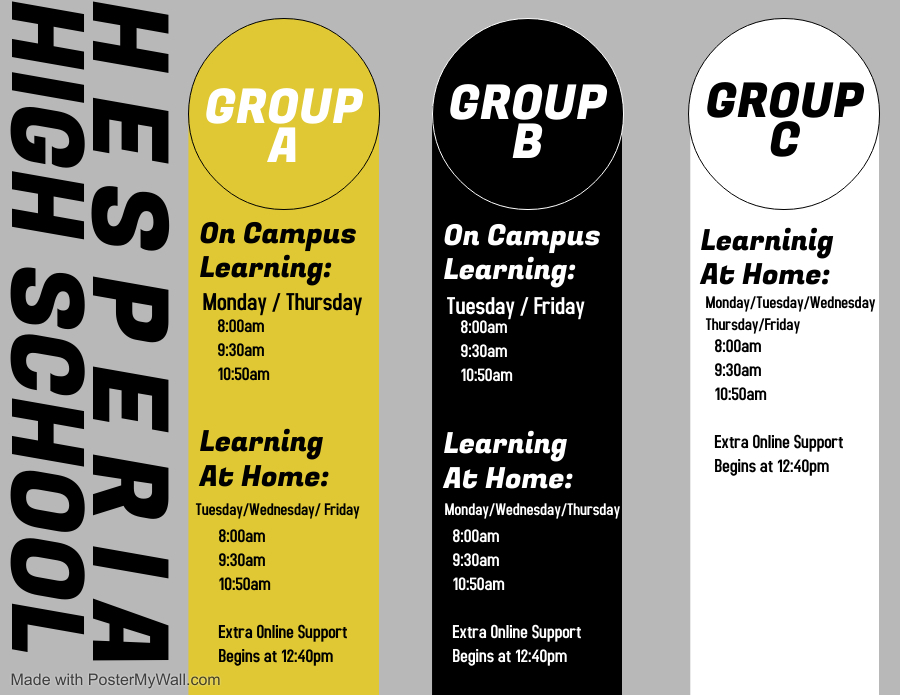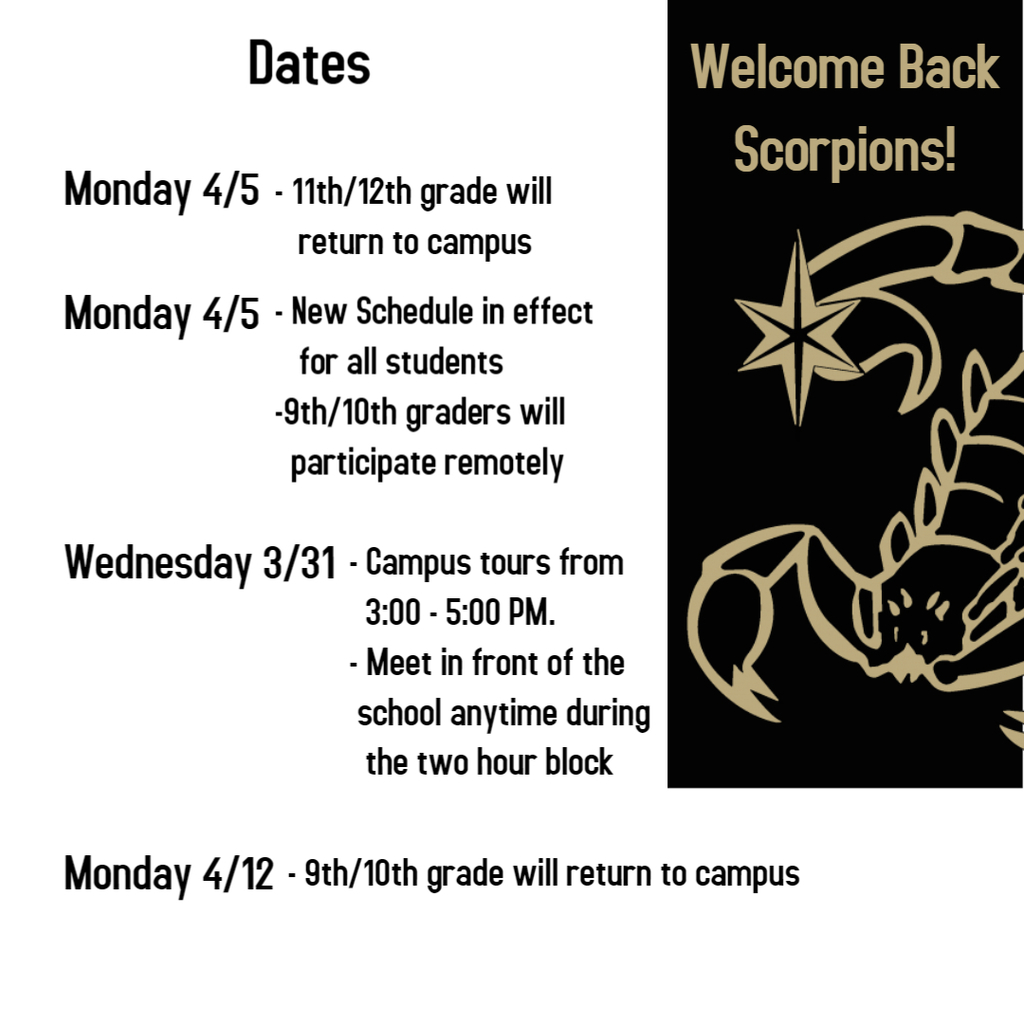 High school registered dental assistant Zoom orientation. Tuesday April 13, 2021 @ 4:00 PM (760) 244-1771 x 5167 Meeting ID: 879 9218 7954 Passcode: 092227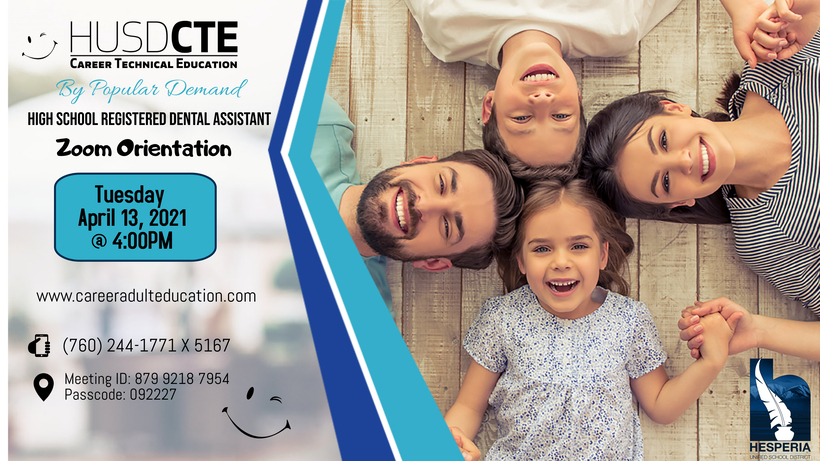 We're Back!!!! We are finally going to be back on campus!!! Juniors and seniors will start back the week of April 5 and all hybrid students will be back the week of April 12. Check the schedule on scoprioncountry.com for more details! Can't wait to see you all!

Catch up with the latest student stories, sports scores, and news updates. It's all things Hesperia USD, in your pocket. If you haven't already, download the app on Android:
http://bit.ly/2F1j1is
or iPhone:
https://apple.co/2Fjk8tt
.

Scorpion Families! HHS is opening back up beginning on April 5th. Students have been placed into three groups. Groups A and B will return to campus 2 days a week and Group C will remain in distance learning. Check your student's school email account to find out which group you have been assigned to. We hope you are enjoying spring break!


Tomorrow's game starts at 10 am. Go to the link bit.ly/keygame21 to watch the game online.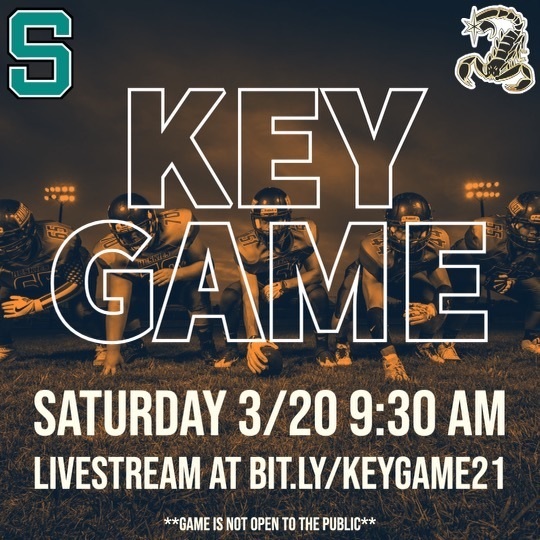 We are loving our updated app! Access sports scores, cafeteria menus, news updates, and even emergency notifications, right from your pocket. Download the app on Android:
http://bit.ly/2F1j1is
or iPhone:
https://apple.co/2Fjk8tt
.

Scorpion Family If your student needs to attend summer school but has not yet registered, please go to
www.scorpioncountry.com
and click on the button that says "Summer School". The registration deadline is this Friday, March 19th. Have a great day!

We're thrilled to announce Hesperia Unified School District's updated app! It's all things Hesperia USD, in your pocket. Download the app on Android:
http://bit
. ly/2F1j1is or iPhone:
https://apple.co/2Fjk8tt
.

Scorpion Family! This week's video principal's message is available to view at
https://youtu.be/sTi2lTHFuLg
Topics Covered: School Reopening Survey Have a great day!

Parents/guardians of secondary students, please fill out this survey by Monday, March 8th, regarding sending secondary students to school in a hybrid format. You will find more details within the survey.
https://forms.gle/rDZjAQ94A4W3mY3aA
Padres/tutores de alumnos de escuelas secundarias y preparatorias, por favor completen esta encuesta antes del lunes, 8 de marzo, con respecto a regresar a nuestros alumnos a la escuela en un formato híbrido. Ustedes podrán encontrar más detalles dentro de la encuesta.
https://forms.gle/rDZjAQ94A4W3mY3aA